ABS & OBD Systems - Revised|Page 212 >
< ABS & OBD Systems - Revised
940 L4-2.3L SOHC VIN 88 B230F (1992)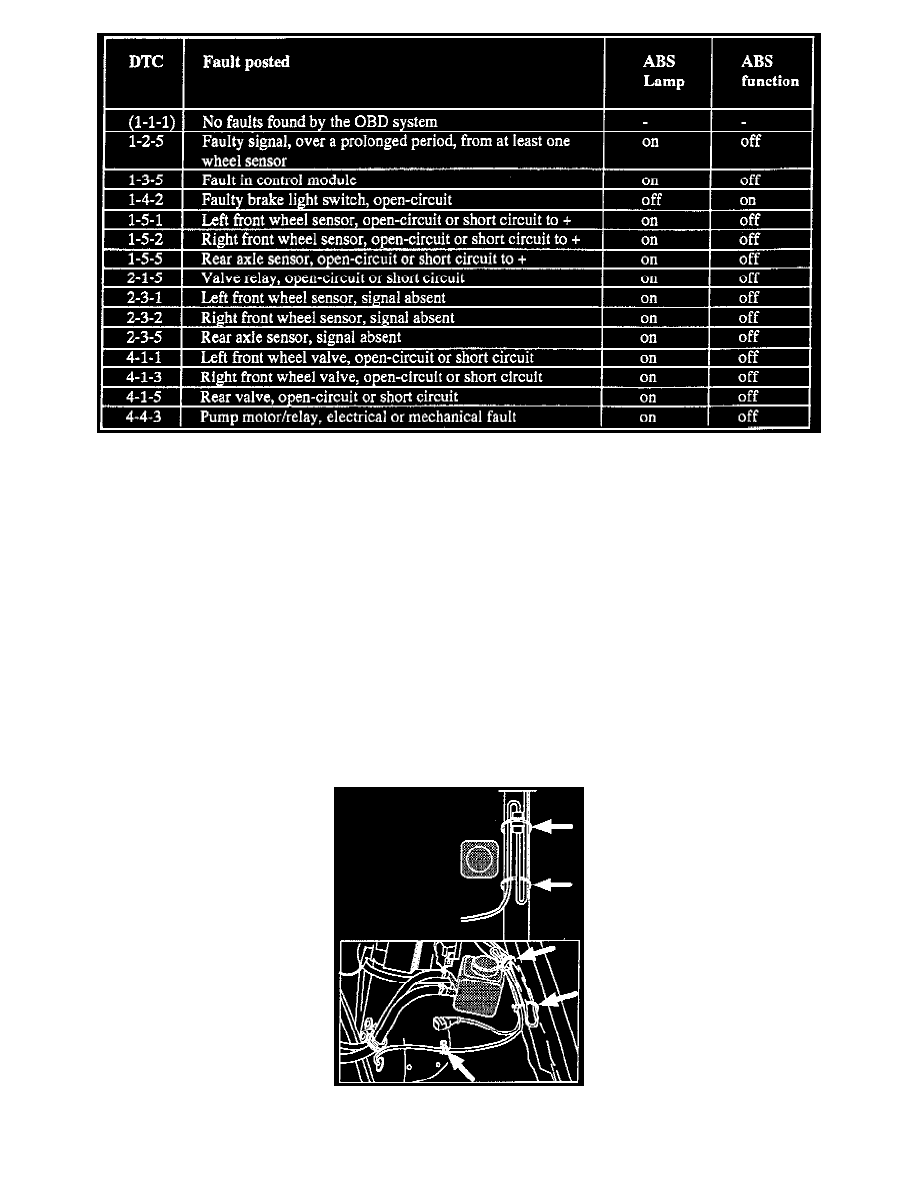 The DTCs in the table are listed numerically
When fault tracing, also see wiring diagram.
OBD ON OLDER MODELS
The new control module can be used to fault trace ABS on vehicles from 1992 up to the chassis numbers given at the beginning of this bulletin, to read
off DTCs via the diagnostic unit.
Replace the existing control module with a new control module with an OBD function. Drive the car. Speed must exceed 4 mph (6 km/h). Faults will be
posted by the control module which stores DTCs. These can then be read off via the diagnostic unit and test function 1. See DTC table above.
On M/Y '89-'91 fault tracing and diagnosis cannot be carried out using the new control module, as there is no diagnostic lead to the diagnostic unit.
Change location of sensor lead, M/Y '93 (Jan. - March) 940 with Rex/Regina ignition and fuel system
On cars with the Rex/Regina ignition/fuel system and an ABS control module, p/n 9130197-8, with OBD system, interference can occur in the sensor
lead to the left front wheel. Interference can cause symptoms such as pulsing in the brake pedal when the car is stationary and the engine RPM is above
idle. Normal braking function is not affected. If symptoms occur, modify sensor lead as per figure (see new position of sensor lead).
The routing of the sensor lead was changed from the hole in the wheel housing to the connector in the engine compartment. The lead was moved forward
and pulled down towards the wheel housing plate. (See illustration). This measure was introduced into production from chassis number:
ABS & OBD Systems - Revised|Page 212 >
< ABS & OBD Systems - Revised