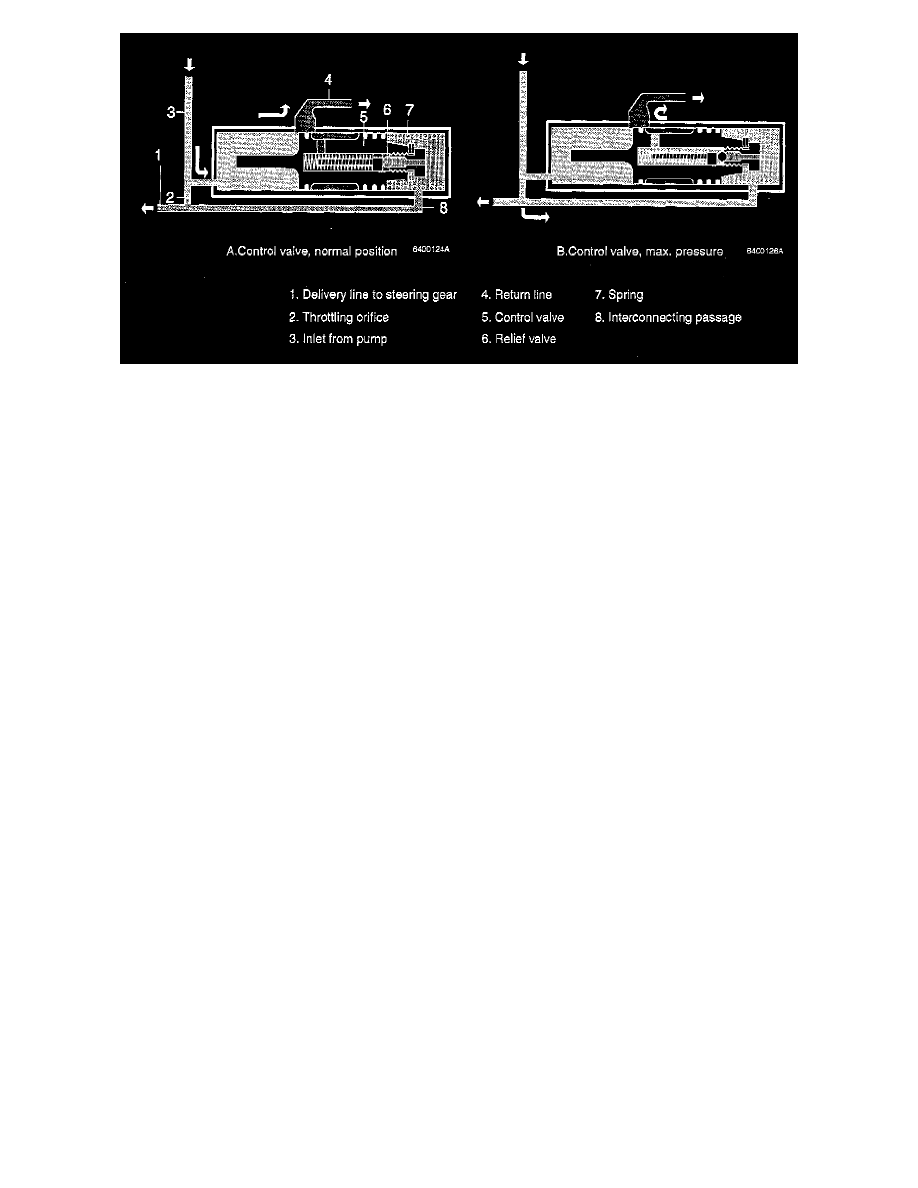 The pump incorporates a control valve which regulates the fluid flow as well as the maximum fluid pressure. When the pump starts, the valve (5 in
Fig. A) is displaced to the left by the spring (7). The fluid from the pump flows through the inlet line (3), through the throttling orifice (2), into the
delivery line (1) to the steering gear. Since the space to the right of the valve piston is interconnected with the steering gear delivery line (1) by the
passage (8), both are at the same pressure. The throttling orifice (2) ensures that the pressure on the left-hand side of the valve piston is higher than in
the delivery line (1) and to the right of the piston. Thus, the piston is displaced to the right when the spring force is overcome. When the pump speed is
sufficiently high relative to the back pressure, the piston displacement will be sufficient to allow the excess fluid to return to the pump inlet (see Fig.
A). Since the pump is intended to deliver less than its maximum capacity, this is defined as the normal valve position. If the fluid flow in the delivery
line is interrupted, for example if turning of the wheels is blocked, the pressure in the delivery line (1) will rise and the pressure differential across the
valve will be equalized. Under these conditions, the spring will displace the valve piston to the left, closing the return opening, and the pressure will
rise further. At maximum pressure, the spring force on the relief valve (6) (the inner section of the control valve) will be overcome, permitting fluid to
be discharged to the return passage (4) (see Fig. B). The pressure on the right-hand side of the valve piston will then fall, the complete valve will be
displaced to the right and the return line will be reopened. When the pressure has returned to normal, the relief valve will close and the control valve
will revert to its normal position.