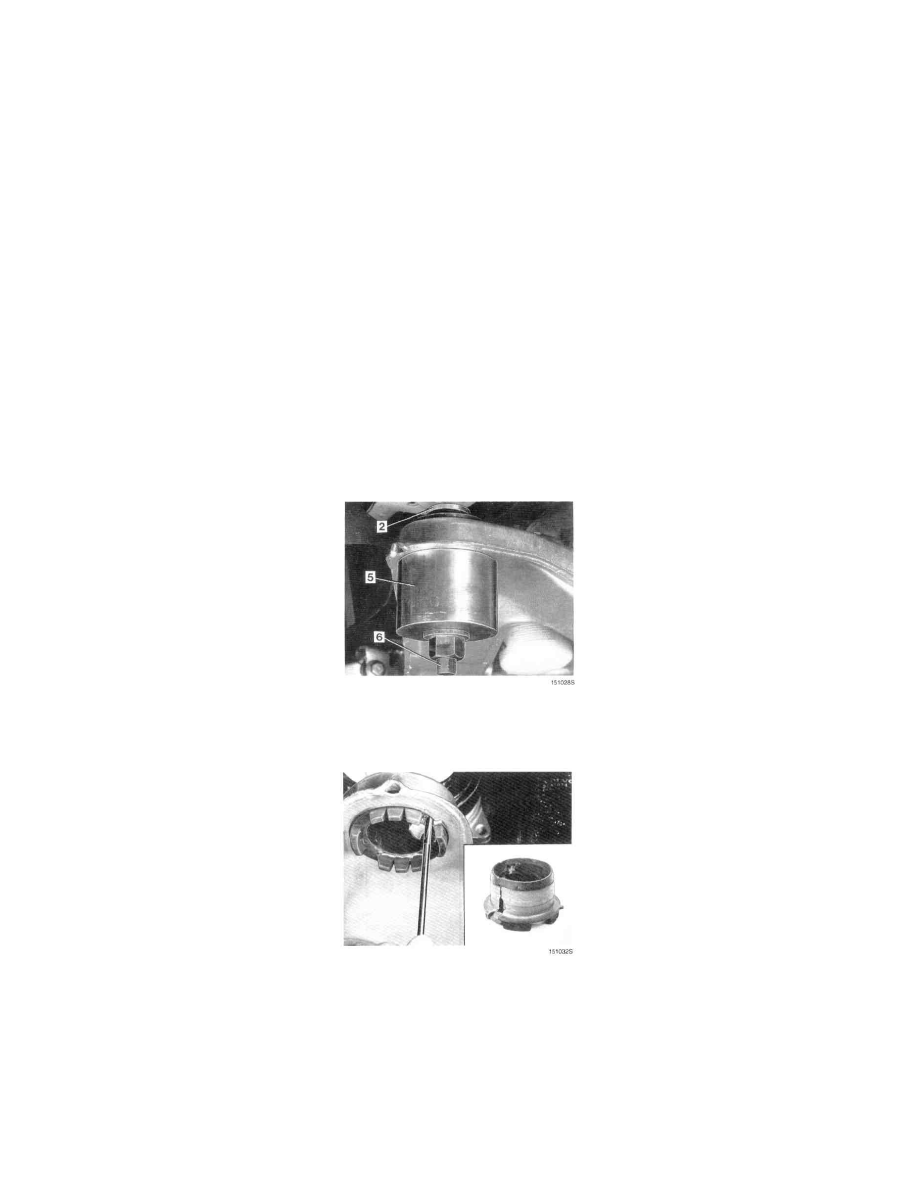 Rear Cross-Member Bushing: Service and Repair
NOTE:  Bushings may be replaced only one at a time. 
1. Remove mounting bolt from engine upper torque rod.
2. Release steering wheel lock.
3. Remove locking spring, nut and set bolt in universal joint between steering shaft and steering gear.
CAUTION:  On cars with SRS, lock steering wheel by removing ignition key. Do not turn front wheels, otherwise steering gear position will be
altered and SRS system contact reel may be damaged.
4. Push universal joint up steering shaft.
5. Jack up car.
6. Disconnect stabilizer link (anti-roll link) from bar.
7. Remove: 
-
both rear bolts from bracket. 
-
center bolt. Subframe will drop slightly.
NOTE:  The body is provided with a locating pin for the bushing on the left-hand side. When replacing the bus, hang. a lever must be used to fit
the counterhold (1) on top of the suffrage. Insert a spacer or wood or similar material between the body and lever.
8. Install cutter (3) and bolt (6) from underneath.
NOTE:  Illustration shows bushing at front of subframe.
9. Tighten large nut on cutter until stop is reached.
10. Remove counterhold: Install nut plate (2), spacer sleeve (5) and bolt (6).
11. Withdraw inner section of bushing with cutter: This is carried out by tightening large nut until cutter turns freely. Cutter is not visible in
illustration.
12. Break off part of flange on outer sleeve of bushing: 
a. Use screwdriver and hammer.
NOTE: A chisel must not be used. 
b. Split sleeve completely by inserting screwdriver in gap.