< PREV PAGE
NEXT PAGE >
V70R AWD L5-2.3L Turbo VIN 52 B5234T6 (1998)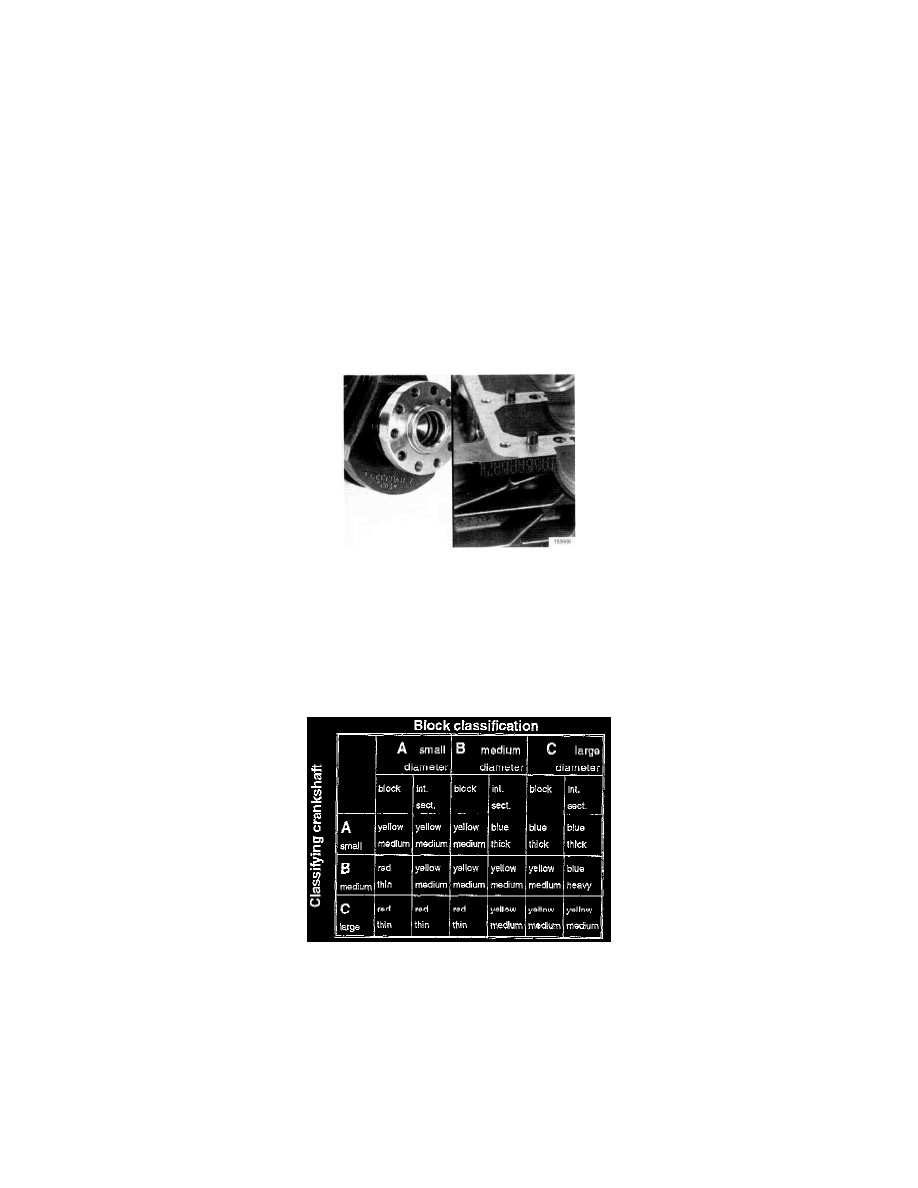 Crankshaft: Service and Repair
Crank, Pistons and Rods, Reassembly
Special Tools:  
-
Standard Handle tool No. 999 1801, or equivalent
-
Installation tool No. 999 5430, or equivalent
-
Base tool No. 999 5971, or equivalent
-
Magnetic Stand tool No. 999 9696, or equivalent
Universal Tools:  
-
Piston Ring Compressor tool No. 115 8281, or equivalent
-
Roller tool No. 951 1205, or equivalent
-
Piston ring compressor tool No. 998 5424, or equivalent
NOTE:  For additional information on special tools and equipment used in this procedure, refer to "Tools For Engine Reconditioning". See: Tools and
Equipment 
Procedure
1. Classification of crankshaft main bearings:  
-
Clean main bearing seats. 
-
Check that components are clean and free of damage. 
-
Check classification markings on cylinder block and crankshaft.
NOTE:
-
Each bearing seat is marked with the cylinder no. and a classification letter for the block and crankshaft.
-
Use the table below to select the right bearing shells.
2. Selecting bearing shells:  
-
Install main bearings in cylinder block (See table). 
-
Oil bearing shells liberally on crankshaft side. 
-
Install flanged shells in rear most position. 
-
Example: Classifying no. 1 bearing. 
Marking on block is B. 
Marking on crankshaft is C. 
Accordingly, use a red shell in the block and a yellow shell in the intermediate section.
< PREV PAGE
NEXT PAGE >