< PREV PAGE
NEXT PAGE >
V70R AWD L5-2.3L Turbo VIN 52 B5234T6 (1998)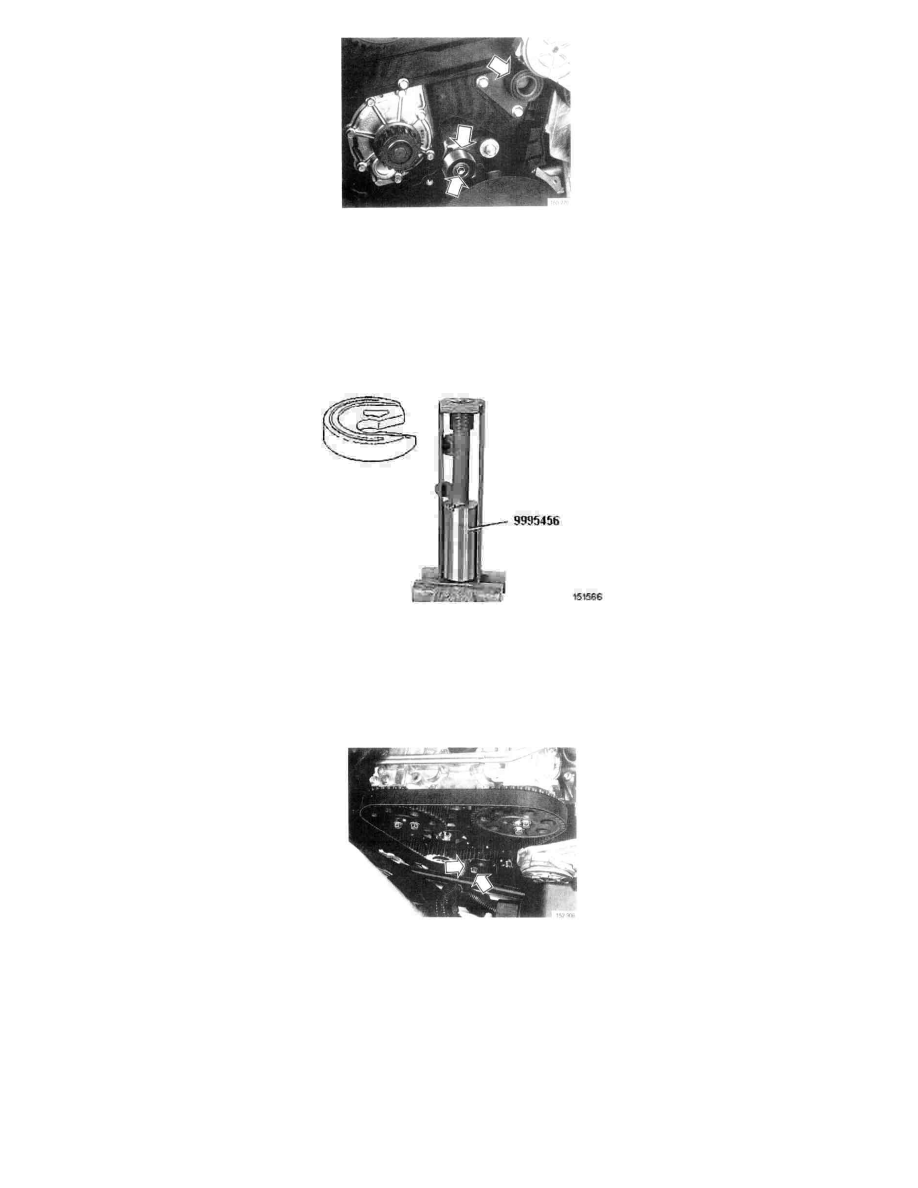 Check tensioner and idler pulleys:
Spin the pulleys and listen for noise in the bearings.
Check that the tensioner pulley actuator arm has not seized in its bearing. Check the idler pulley and tensioner pulley are tightened correctly.
Pulley, tighten to: 30 Nm (22 ft lb) 
Idler pulley, tighten to: 24 Nm (18 ft lb) 
Adjusting the mechanical belt tensioner
If a mechanical belt tensioner is being used, adjust according to "Adjusting the Mechanical Belt Tensioner"  See: Timing Belt Tensioner/Adjustments
Lock tensioner damping unit
Check there there is no visible leakage.
Compress tensioner with tools 939 5456. Position tensioner damping unit in the tool and screw tool center nut to the bottom. Wait until compression is
complete and install a lock pin (2.0 mm) in the piston.
NOTE:
If there is leakage or no resistance when pushed in or if it cannot be pushed in the tensioner damping unit must be replaced.
Install the new timing belt
Install tensioner damping unit torque to 25 Nm (18 ft lbs).
Place belt around the crankshaft and right idler pulley.
Place belt over camshaft pulley.
Place belt around coolant pump and press the belt over the tensioner pulley.
Installing camshaft pulley and timing belt
Caution!
The timing belt must be installed correctly to obtain the correct timing. Before tightening the screws between the camshaft and
camshaft pulley press hard (or hit with a plastic mallet) twice on the belt between the camshafts and then twice on the belt between
the exhaust camshaft and the engine coolant pump. Do this to ensure that the gears mesh with the timing gear pulleys.
< PREV PAGE
NEXT PAGE >