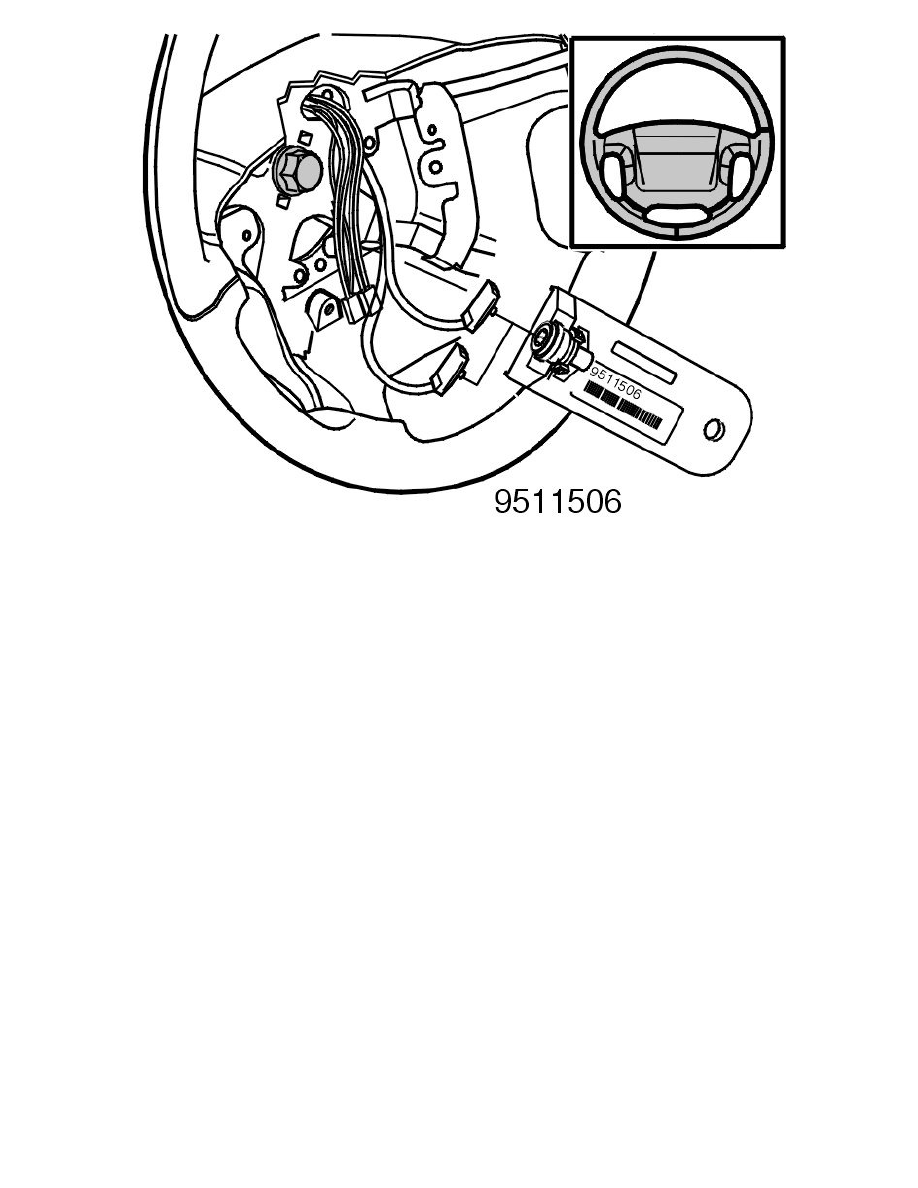 Note! Check that the front wheels are pointing straight ahead.
Pull the connectors from the contact roller through the steering wheel.
Install the steering wheel carefully so that the contact roller's two catches fit in the steering wheel hub's both slots.
Install the steering wheel screw. Use a new screw. Tighten with fingers.
Caution! Do not turn the steering wheel when it is on the steering shaft. Since the contact reel is locked, it will be damaged beyond repair if the
wheel is turned in this situation.
Loosen the lock screw that holds the contact roller.
Install it in the parking hole on the steering wheel.
Connect tools (2 pcs.): 951 1506 Test dummy See: Tools and Equipment/951 1506 Test Dummy  to the contact roller's SRS-wiring.
Drive the car straight ahead and check that the steering wheel stands in position "straight ahead".
If the steering wheel position is incorrect, repeat the adjustment.
Tighten the screw in the center of the steering wheel.
Remove the tools (2 pcs.): 951 1506 Test dummy See: Tools and Equipment/951 1506 Test Dummy.
Tighten the steering wheel screw with 40 Nm.
Check that the SRS-light goes out, that is, that no diagnostic trouble codes remain.
Installing driver's airbag module
Install the driver's airbag module according to: Airbag driver and passenger (SRS), replacing See: Restraint Systems/Air Bag Systems/Air Bag/Service
and Repair.
Finishing
Checking function on steering column
Ensure that the steering wheel turns easily and that the steering lock functions.
Check that no diagnostic trouble codes have been stored during the repairs.
Start the engine and the heating system.
Fill coolant in the cooling system.
Check that the pipe connections do not leak.
Install the soundproofing panel according to: Soundproofing panel, replacing See: Body and Frame/Interior Moulding / Trim/Dashboard / Instrument
Panel/Service and Repair/Soundproofing Panel, Replacing.