< PREV PAGE
NEXT PAGE >
XC90 FWD L6-3.2L VIN 96 B6324S2 (2010)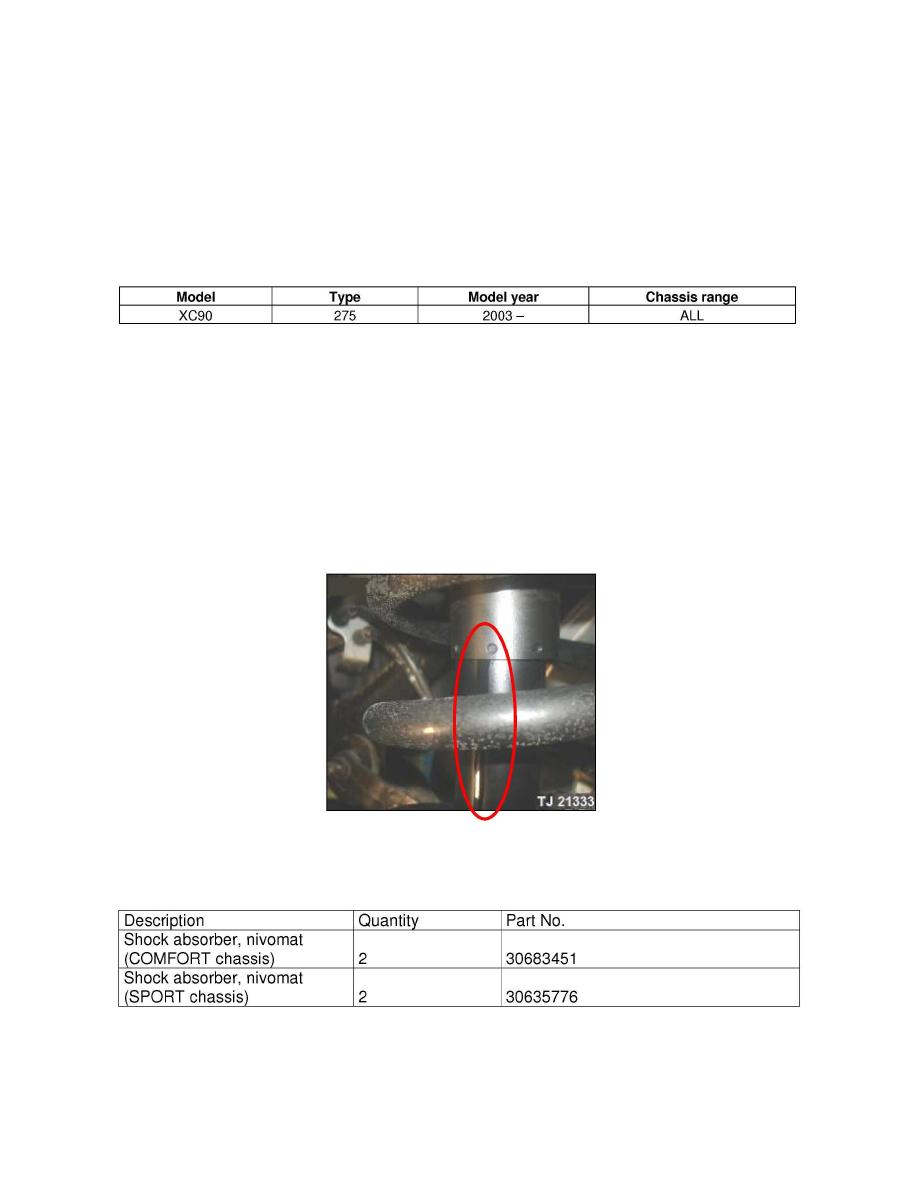 Suspension Strut / Shock Absorber: Customer Interest
Suspension - Rear Shock Absorber Leakage (Canada)
Retailer Technical Journal 21333
Rear shock absorber, 
Leakage at low temperatures
CANADA ONLY!
Date 03-15-2010
Reference: VIDA, VSTG
Note!
If using a printed copy of this Retailer Technical Journal, first check for the latest online version.
AFFECTED VEHICLES:
DESCRIPTION:
Reports have been received stating that cars during the customer preparation service (CPS), after being parked outdoors in extreme cold temperature,
may have oil leaks from the rear shock absorbers when the car is being lifted on a hoist and the rear wheels are hanging free.
This symptom has been reported on standard (STD) shock absorbers. Some replaced shock absorbers have been analyzed and found to be OK, except a
low oil level.
The leakage is caused by the extreme cold temperature, which causes the oil to be viscous. The shock absorbers are designed to work at extreme low
temperatures but can leak when extended to full length at extreme low temperatures.
IMPORTANT! THIS IS ONLY AN EXTREME COLD MARKET ISSUE AND THIS IS WHY THIS RTJ ONLY APPLIES TO THE CANADIAN
MARKET! If this is found on vehicles outside of Canada, this RTJ does not apply!
MATERIALS:
SERVICE:
Whenever a vehicle is lifted on a hoist for any reason, avoid lifting the car on a hoist with the rear wheels hanging free if the car is still colder than
approximately -25° C (-13° F). If possible, park the car indoors for a while before lifting the car on a hoist, or use a different type of hoist where the rear
wheels are not hanging free.
< PREV PAGE
NEXT PAGE >