< PREV PAGE
NEXT PAGE >
Yugo L4-1300cc 1.3L (1991)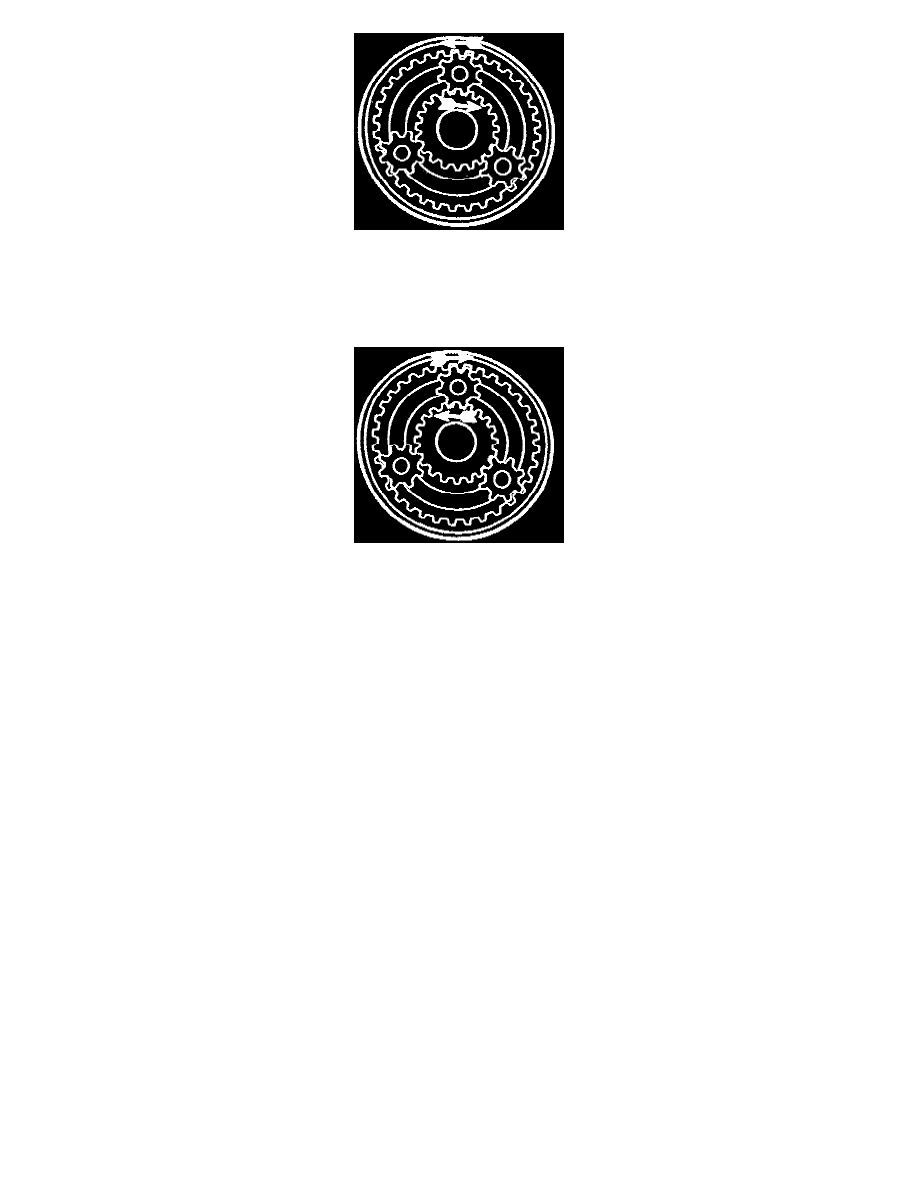 EXAMPLE: 34 divided by 20 = 1.7 (See figure)
Occasionally, the ring gear is used as the input, and the Sun gear as the output.
The formula for this is: The Sun gear divided by the ring gear = Ratio. 
EXAMPLE: 20 divided by 34 = .59
(See figure)
Notice that the output is overdriven.
A transmission using this method must use another planetary gear set to reduce the output. The Mercedes W3A-040 is a good example of this
To get more than one gear forward and a reverse, requires multiple, or compound planetary gear sets.
Two of the most common of these are the SIMPSON GEAR SET, used in transmissions like the THM 350, the Ford C-4, and the TF 6 & 8, and the
RAVIGNEAUX GEAR SET, found in transmissions such as the FMX, the AOD, and the T-35.
Figuring out all the ratios for these transmissions is a little tricky, so I'll give you the formulas, and let you figure out how these formulas were derived.
THE SIMPSON GEAR SET:
For this example I'll use a THM 200, which has 74 TEETH ON THE FRONT RING GEAR, 42 TEETH ON THE FRONT SUN GEAR, 30 TEETH ON
THE REAR SUN GEAR, AND 62 TEETH ON THE REAR RING GEAR.
The formula for 1ST GEAR is: rear ring divided by rear Sun x front Sun plus front Sun + front ring divided by front ring.
EXAMPLE: On the THM 200, it would be:
62 divided by 30 x 42 + 42 + 74 divided by 74 = 2.74:1
SECOND GEAR is easy: Front Sun + front ring divided by front ring.
EXAMPLE: 42 + 74 divided by 74 = 1.57:1
THIRD GEAR is Direct Drive, or 1:1
REVERSE is rear ring divided by rear Sun
EXAMPLE: 62 divided by 30 = 2.06
< PREV PAGE
NEXT PAGE >