< PREV PAGE
NEXT PAGE >
Discovery II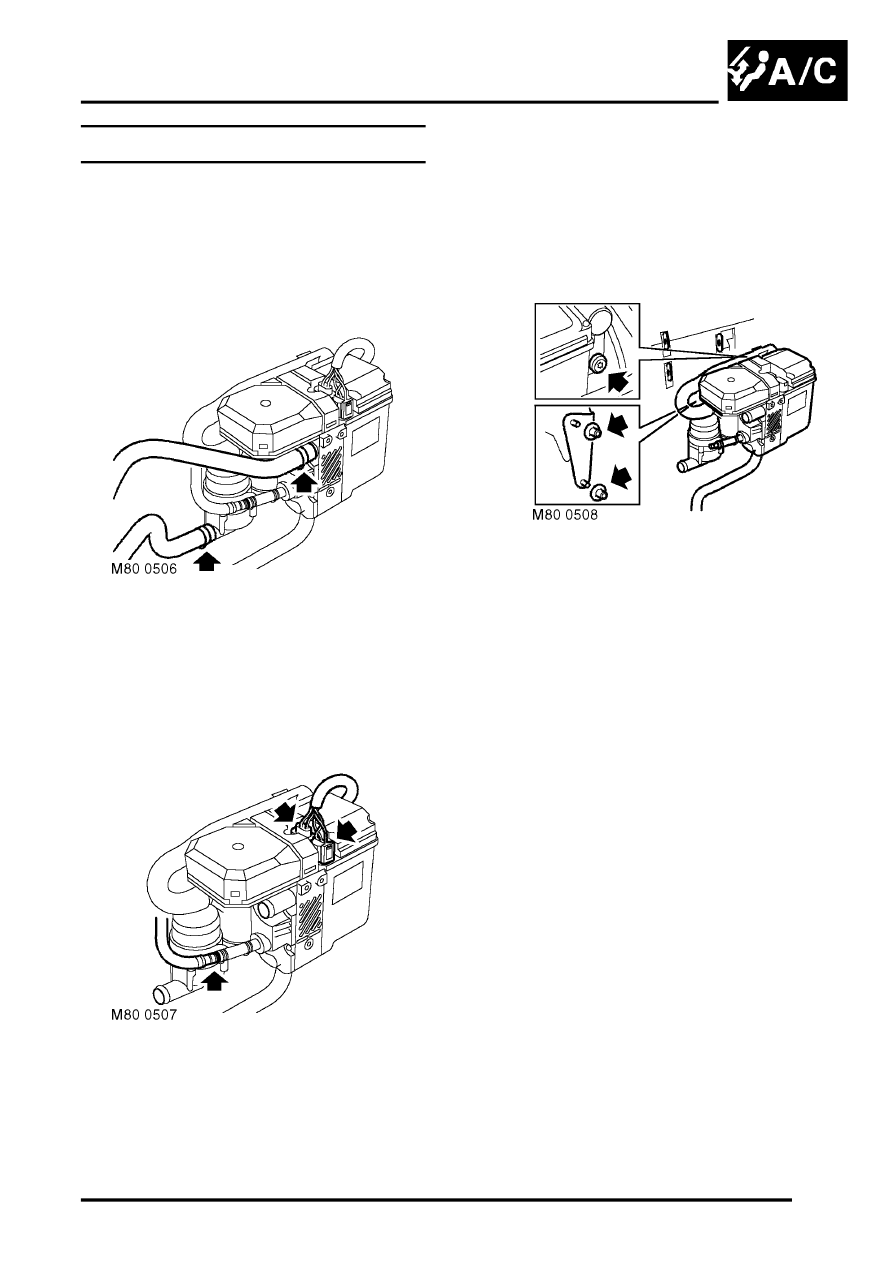 HEATING AND VENTILATION
REPAIRS
80-31
Fuel burning heater - (FBH) - Td5
$% 80.40.01.99
Remove
1. Release fixings and remove battery cover.
2. Disconnect battery earth lead.
3. Clamp feed and return coolant hoses at FBH.
4. Position container to collect spillage.
5. Release clips, disconnect coolant feed and 
return hoses from FBH.
CAUTION: Before disconnecting or 
removing components, ensure the 
immediate area around joint faces and 
connections are clean. Plug open 
connections to prevent contamination.
6. Disconnect 2 multiplugs from FBH.
7. Position container to collect spillage and 
disconnect quick release fuel pipe from FBH.
CAUTION: Before disconnecting any part of 
the fuel system, it is imperative that all dust, 
dirt and debris is removed from around 
components to prevent ingress of foreign 
matter into fuel system.
8. Remove Torx bolt securing FBH to bulkhead 
mounting bracket.
9. Release and remove FBH.
10. Collect locating bushes from pegs.
Refit
1. Fit bushes to pegs.
2. Align FBH to pegs, fit Torx bolt and tighten to 25 
Nm (18 lbf.ft).
3. Clean quick release connection and fit fuel pipe 
to FBH.
4. Connect multiplugs to FBH.
5. Connect coolant hoses to FBH and secure with 
clips.
6. Release clamps from hoses.
7. Connect battery earth lead.
8. Fit and secure battery cover.
9. Top-up cooling system.
< PREV PAGE
NEXT PAGE >